Titanium Engagement Rings - An Introduction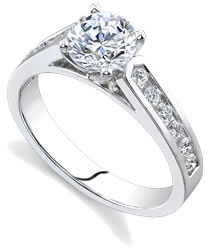 View our wedding rings here.

Engagement rings and bands are made from all types of metals. Some of the most popular rings are made from yellow gold, white gold, silver, and platinum. A less well-known metal used for engagement rings is titanium. Couples occasionally choose titanium engagement rings over more popular metals. Letís learn a bit about titanium to find out why.
Titanium is Discovered
Titanium has been around for a few hundred years. It was discovered in 1791 by a geologist in England. The geologistís name was William Gregor, and he discovered titanium by accident. According to historians, Gregor noticed a new element while examining black sand near a stream. He was surprised to see that the sand was magnetic, which was out of the ordinary.
On further examination, Gregor discovered the sand contained an element heíd never seen. He later reported his findings to the geological community. In 1795 a German chemist, Martin Klaproth, discovered what he thought was a new element. He named his discovery "titanium" after the Titans in Greek mythology. Upon hearing of Gregorís earlier discovery, Klaproth got a sample and verified that it also contained titanium.
Titanium Today
Titanium has come a long way from those early days. Itís actually more common than early geologists and chemists realized. Titanium is a metallic element that can be found in numerous places. Among them are coal ash, plants, and the human body. Thereís definitely not a shortage of titanium. So why arenít titanium engagement rings more popular?
Titanium engagement rings arenít very popular because titanium isnít easy to work with. Itís a strong metal, much stronger than gold or silver. Because of its strength, it doesnít shape easily. Gold or silver can be shaped into a piece of jewelry fairly easily. Titanium, on the other hand, takes twice as long to shape. That often makes it inconvenient to use for jewelry. It is impossible to resize a titanium ring and they do dull and show scratches easily.
However, titanium is used in numerous everyday items. Youíre probably using some of these items right now. They include golf clubs, aircraft, watches, eyeglasses, and bicycle frames to name a few. But if youíre reading this article, youíre obviously interested in hearing about titanium engagement rings.
Titanium For Use in Jewelry and Rings
As stated earlier, titanium is a hard metal. Itís actually harder than gold or silver. Thatís not necessarily a bad thing, though. The pros to using titanium in an engagement ring outweigh the cons. Consider the following:
Titanium is hypoallergenic. It wonít irritate sensitive skin or cause breakouts.
Titanium is resistant to decay. An engagement ring made from titanium will last longer than one made from metals such as gold or silver.
Although titanium is a strong metal, itís also light-weight.
Titanium rings are very inexpensive.
Titanium Engagement Rings For Men
Men tend to favor titanium engagement rings over those made from other metals. This could be because it has a deep gray tint, and is darker than white gold or silver. Darker colors are usually associated with masculinity, so that makes titanium a perfect choice for a manís engagement ring.
Titanium engagement rings can also withstand more wear and tear. If itís worn during sports or any type of rough activity, itís less likely to be damaged. But that doesnít mean it canít be damaged. However, this strength doesnít come without its drawbacks.
Titanium isnít easy to shape, so it can limit the types of styles available. If youíre interested in intricate patterns, you probably should avoid titanium. It also canít be soldered, so certain types of settings wonít work.
For example, the popular prong setting doesnít work with titanium. Instead the prongs must be made from another metal, and then riveted to the titanium band. On a brighter note, bezel, channel, and flush settings work well with titanium engagement rings.
If youíre interested in titanium, but would like more color choices, then youíre in luck. There are treatments that can cause titanium to turn black, blue, or even purple. Imagine how cool it would look to have a blue band paired with a brilliant clear diamond. It would certainly provide a unique look.
To maintain colored titanium engagement rings, the coloring process must be repeated. The color starts to wear off over time. When the color begins to wear off, it doesnít mean the ring is decaying. Itís just a matter of fading color, similar to a dyed shirt after too many washes.
Finding Titanium Engagement Rings
Titanium engagement rings arenít widely available from Novori like rings made from gold or silver. However, some jewelry stores do carry a small selection of titanium rings. Itís easier to locate titanium rings online or by special order.
Titanium is abundant, so it isnít as expensive as gold, silver, or even platinum. But titanium engagement rings are usually expensive because theyíre not easy to make. Titanium is hard and can easily wear down a jewelerís tools. If you want a titanium engagement ring, itís advisable to stick with a plain design. Elaborate designs are cheaper when used with gold, silver, or platinum.
Although titanium is more durable than most metals, it also needs care. You donít have to worry about rust or tarnish, but titanium can get scratched. As with any ring, itís best to store it in a secure place when itís not being worn. And when taking the ring for repairs, ask if the repairer is skilled with titanium.
Titanium engagement rings are worth the money. They look good, are durable, and lightweight. The thing to remember is that titanium isnít easy to shape. Your style choices wonít be as diverse as with gold, silver, or platinum. But other than that, titanium is just as good as any other metal used for jewelry. If you need assistance finding a ring that is not made from titanium, we would be glad to assist you. Call us toll free at 1-877-877-4141 and let us show you engagement rings made from other popular metals.

Related Diamond Engagement Ring Articles